The Reality of Rabies in Ethiopia: When Man's Best Friend Becomes the Enemy
Posted on

by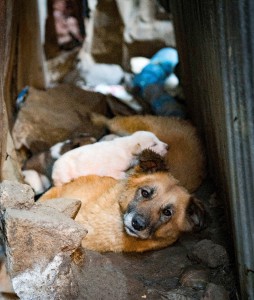 Rabies is a disease that affects both people and animals, and is nearly always fatal once clinical signs have developed. In the United States, people are most likely to get rabies from a bat or raccoon. But in Africa and many other parts of the world, people fear getting rabies from their dogs. In Ethiopia, an African country with one of the largest rabies burdens on the African continent, it is estimated that over 2,700 people die of rabies each year. The mental and emotional burden of these deaths in Ethiopian communities is considerable. While on a recent trip to Ethiopia, I spoke to multiple community members in Addis Ababa, all of whom were familiar with rabies and knew someone who has died from the disease. I was shocked to hear so many stories of children, friends and loved ones who had succumbed to this horrible disease. What's even more tragic is that this disease is preventable with proper vaccination.
Unfair burden placed on the most vulnerable
Worldwide, the majority of people who die from rabies every year are children, and most deaths are due to the bite of rabid dogs. Children die from rabies because they don't have access to safe, effective post-exposure vaccination. They die because they don't know that washing a wound with soap and water for 15 minutes can significantly reduce the risk of getting infected with the virus. They die because dogs in their communities are not vaccinated against rabies.
The role of dogs in rabies transmission has wide-reaching implications for Ethiopian society. Dogs have historically played an important role in Ethiopian culture. They are regarded as guardians and protectors. They are a source of friendship and warmth. While in Ethiopia, I observed street dogs protecting the neighborhood children from strangers walking through their streets. It was endearing to witness the strong bond present between dogs and their communities. But rabies has negatively affected the human-animal bond in Ethiopia. In Ethiopia, rabies is known as "mad dog disease," and many community members have become fearful of dogs.
CDC and partners provide crucial education and training
CDC is assisting the Ethiopian government with the design and implementation of their rabies elimination plan. This elimination plan includes improved access to post-exposure vaccines, community education and awareness, establishment of an animal rabies surveillance system, and promotion of responsible dog ownership. In August, Rabies Team members Emily Pieracci, Meseret Birhane, and Mary Reynolds from the Division of High Consequence Pathogens and Pathology (DHCPP) traveled to Ethiopia to implement a rabies animal surveillance system in four regions of the country. In partnership with the Ethiopian Public Health Institute, the Ministry of Livestock and Fishery Resources, Ohio State University, and the Global Alliance for Rabies Control (GARC), they trained 29 animal healthcare professionals in a rabies education course and an animal vaccination course developed by GARC. Ethiopia now has more GARC-certified animal vaccinators than any other country in the world.
The training was a pivotal first step in repairing the mental and emotional wounds that dog-associated rabies has caused in Ethiopian society. By teaching humane and safe methods of vaccination and restraint, community members can have positive and rewarding interactions with dogs. Communities can be educated to identify suspect rabid animals and report them. Improving the welfare of dogs in Ethiopia can serve as a means for improving rabies control. By reducing the fear and stigma associated with dogs, people can become engaged in responsible dog ownership, resulting in vaccination, spay and neuter practices, and improved overall health of the dogs in the community.
September 28th is World Rabies Day
It is a day to acknowledge the significance of this disease, and celebrate the efforts that scientists, animal and human health professionals, and engaged citizens make year-round to eliminate canine rabies. World Rabies Day is a day to celebrate the bond we share with our pets and recognize the importance of vaccinating all dogs against this deadly disease. By vaccinating dogs, we can protect ourselves and our children and improve human and animal welfare worldwide.
Posted on

by
---
Page last reviewed:
January 9, 2022
Page last updated:
January 9, 2022