What I Saw as a Child Led Me to Champion Vaccines Today
Posted on

by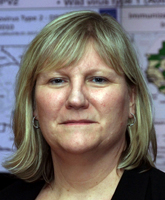 This post is part of the #ProtectingKids blog series. Read the whole series here.
Living as a child in Kabul, Afghanistan in the 1970's meant going to the bazaar on the weekends with my parents. My two sisters and I would climb in the back of our Volkswagen Kombi and my father would drive us there. Within seconds of approaching the bazaar, our car would be surrounded by men offering to help him park, and then there were the young children asking for an Afghan coin or two. Walking through the bazaar filled with smells of baked naan and fresh lamb, the sounds of mullahs from the nearby mosques, and the sights of brightly colored plastic bangles – which is why I went to the bazaar – there would be pieces of torn cloth on the ground with women and children sitting. I thought they were families. Some women were fully covered by their clothes and to the admonishment of my mother, I tried to get as close as I could to see who was behind the veils. The children would run around while the infants lay still in their mothers' arms or on the cloth on the ground.
One particular memory that has stayed with me is of a young boy leaning on a stick –both of his hands wrapped around it, and one of his legs, smaller, dangling. He watched over a few other children and yelled at them once in a while, but finally crawled down on his hands and sat on the cloth. I remember asking my father what had happened to the boy. He told me it was polio and that he would always be disabled.
Growing up in several Asian and African countries, I saw many people affected by polio as well as many other diseases that we no longer see in the United States, and it shaped me and what I wanted to do "when I grew up." I wanted to know what I could do so that children in resource-poor countries could have what I had, while incorporating the five things my father taught me through how he lived his life as an expert in appropriate and sustainable agriculture: respect everyone; try anything once; embrace and understand differences; share scientific and technical expertise but solutions are at the level of implementation; and, connect scientists with implementers and communities.
This has led me to where I am today – championing the prevention of vaccine-preventable diseases, which is one of the most cost-effective public health interventions and which has had a major impact on reducing child mortality. In my position as the director of the Global Immunization Division in the Center for Global Health at the Centers for Disease Control and Prevention, I work with dedicated and passionate colleagues and global partners to eradicate poliomyelitis – the ultimate in equity. I never learned that boy's name in the bazaar in Kabul in 1972, but I have never forgotten him and why it is important that we prevent vaccine-preventable diseases globally: so he and others like him could participate in a kite fight in Kabul with his friends and grow up with good health and opportunities.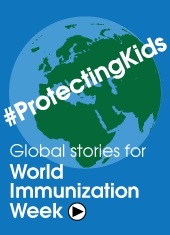 As we celebrate World Immunization Week 2015, I want to take this moment to thank the vaccinators who work 365 days a year to reach every child with all vaccines. We must do all we can to close the gap by making sure every child is reached and has the right to a healthy life. Protecting kids is my life's passion.
Did you enjoy this blog? Share it on Twitter!
Posted on

by
---
Page last reviewed:
January 9, 2022
Page last updated:
January 9, 2022