CDC partners with Bloomberg Philanthropies to strengthen public health data collection in developing countries
Posted on

by
Did you know that each year 35 million deaths go unrecorded worldwide, and that the causes of millions more deaths are never documented?
Today, 80% of the world's population lives in countries that do not collect reliable cause-of-death statistics. According to the World Health Organization, "When deaths go uncounted and the causes of death are not documented, governments cannot design effective public health policies or measure their impact."
With the support of Bloomberg Philanthropies, CDC, in partnership with the CDC Foundation and other partners, plans to significantly improve public health data collection and use through the launch of the Data for Health initiative.
This initiative will assist 20 low- and middle-income countries across Latin America, Asia and Africa in strengthening their public health data systems. CDC will engage in the following three components of the Data for Health initiative: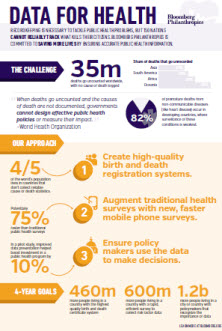 Strengthening Birth and Data Registration Systems and Improving Information on Cause of Death. CDC's National Center for Health Statistics will provide technical expertise to help develop a sustainable infrastructure for capturing vital health statistics.
Creating Mobile Phone Risk Factor Surveys for Noncommunicable CDC and partners will implement a mobile survey to track data on noncommunicable diseases, like cancer and diabetes, and risk factors like tobacco use and nutrition habits in selected countries. This project will test the feasibility of using mobile phones to collect data as a supplement to household surveys on noncommunicable diseases.
Improving Capacity to Use Health Data to Inform Policy Development. The partnership will provide specialized training utilizing case studies, scientific writing, and communication courses for in-country, CDC-supported Field Epidemiology Training Program (FETP) The partnership will also engage FETP and National Public Health Institute staff to develop data-use committees and public health publications.
With these programs combined, the initiative will improve data registration capacity in Ministries of Health around the world, enabling them to use public health data more effectively to inform policy development, understand and address public health issues, and measure outcomes. We are grateful to Bloomberg Philanthropies, in partnership with the Australian government, for funding this initiative that will impact more than 1.2 billion people. We are excited about this new initiative and look forward to updating you on our progress.
Did you enjoy this blog? Share it on Twitter!
Posted on

by
---
Page last reviewed:
May 11, 2021
Page last updated:
May 11, 2021