SPF Is My BFF
Posted on

by
By Kelly Westermann, Katmai Contractor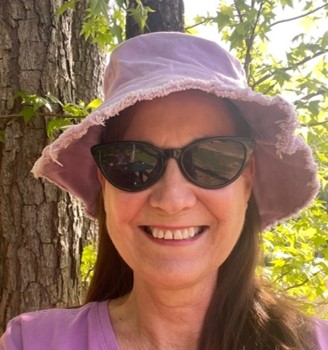 As a teenager, I lived on an island in the northern United States. Every summer, I spent 3 or 4 days a week at a beach with friends or family. We would stay for hours playing volleyball and, board games that didn't involve cards flying away in the wind, reading armloads of books, and eating tasty lunches in the fresh air. I even had my July birthday parties at the beach every year.
The sun relaxed me, and as an anxious kid who was always worried about something, I felt calmer in the sun and near the water. My skin never burned, and I used baby oil to prevent my skin from drying out, so I felt safe from the effects of the sun. My Dad contributed to my lack of worry about sun protection. "Sunscreen," he would say derisively, "is for women," as if using sunscreen is the same as using makeup, or that even using it was optional. Looking back, I think we were all unaware of the damage UV rays from the sun could cause to our skin.
Sitting in a beach chair with my toes in the water, there were times I couldn't even look at the water. The sun's reflection would be nearly blinding. The sun's rays seemed more intense near the water, so I slathered on extra baby oil, and considered my sun protection needs covered. I didn't realize that my perception was a reality: water and sand reflect the sun's damaging rays, which can quickly increase a person's total sun exposure.
And on those rainy days when I couldn't get my dose of sun, I would often go to my local tanning booth. I found that relaxing even if the "rays" weren't natural. It wasn't until I was in my 30s that I understood: that overexposure to the sun is not good for the skin, and neither are tanning beds.
A Real Threat to Our Health
I'm sure my story isn't unique. More than half of the people in this country live within 50 miles of an ocean. And many more live near large lakes and rivers that attract millions of people every year hoping to get some sun and relax by the water. With more than 5 million people treated for skin cancer and nearly 8,000 people dying from melanoma each year in the U.S., overexposure to the sun is a real threat to our health.
After all those years ignoring sunscreen and other forms of sun protection, I have noticed my skin is not as healthy as it could be. Now I look in the mirror and see the damage I unknowingly caused—wrinkles, uneven pigmentation, and some sagging skin due to loss of elasticity. Making sun protection a habit, even as a child and teen, can help slow down skin aging. I also regret the money I spend on skin care treatments in an attempt to reverse the damage. If only I had switched out the baby oil for sunscreen and a hat!
Sun Protection Is Now a Lifelong Habit
Thankfully, I don't have skin cancer and have made sun protection a habit. I always make sure to apply broad-spectrum sunscreen with an SPF of at least 15, especially before heading to the beach or taking my dogs on a long summer hike. Really, protecting my skin is now something I think about when spending any amount of time in the sun. In addition to sunscreen, I wear a wide-brimmed hat, protective clothing, and sunglasses, and enjoy a sunny view from a shady spot. I check my skin often and if I notice any strange moles or marks on my body, I don't hesitate to check in with my doctor.
May is Skin Cancer Awareness Month, which comes at just the right time. As we move into summer and get ready to visit our favorite local beaches, lakes, pools, and parks, I encourage everyone to keep their sun exposure in mind. It also happens to be Older Americans Month, so if you or a loved one want to get serious about skin protection, it's never too late.
Even though I made this change a little later in life, I take comfort in knowing that I am now doing the best I can to protect the skin I'm in. Remember, you can lower your cancer risk throughout your lifetime, not just when you are young. One day, you will be happy you did.
Posted on

by
---
Page last reviewed:
Friday, May 6, 2022
Page last updated:
Friday, May 6, 2022