Talk to Your Doctor About Prostate Cancer and Make Your Own Decision
Posted on

by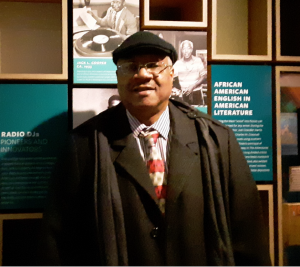 In the fall of 2019, Lorenzo scheduled several health tests and exams because he was applying for benefits from the Veterans Health Administration. A routine blood test showed his prostate specific antigen (PSA) was 7.9—higher than the normal range of 2.0 and 4.0. PSA is a protein made by the prostate gland. His PSA level had been normal until that time. A PSA can be high for many reasons, including having prostate cancer.
"I was a bit surprised, but not shocked," Lorenzo said. He was aware that normal PSA values can be higher as men get older. "I have many associates, friends, and family members who have had the same experience."
A second test confirmed he had abnormal PSA levels, which could mean he had prostate cancer or another problem with his prostate. "I knew I had to act swiftly," Lorenzo said after getting the result of his second test. He was referred to a urologist.
Considering the options
The urologist took 12 biopsies (a small piece of tissue removed from the prostate and looked at under a microscope to see if there are cancer cells). Under the microscope, cancer cells were found. The cancer had a Gleason score of 7. A Gleason score is a way of describing prostate cancer based on how abnormal the cancer cells in a biopsy sample look under a microscope. It also predicts how quickly the cancer cells are likely to grow and spread. His urologist and oncologist gave him the following options:
Active surveillance (meaning take no immediate action, but get checked on a regular schedule).
Surgery to remove his prostate.
Brachytherapy followed by low-dose radiation.
"I asked many questions," Lorenzo said. "For example, I asked what were the chances of reoccurrence. I also asked about aftereffects and recovery time. My main concern was survival, of course. I also asked about the effects on my quality of life following which ever option I chose."
Talking to doctors, friends, and family
He chose to have brachytherapy, a kind of internal radiation therapy where seeds, ribbons, or capsules that contain a radiation source are placed in your body, in or near the tumor. He decided on this treatment after doing extensive research and talking to his urologist, oncologist, wife, and several relatives and close friends who had gone through similar journeys, as well as thinking about what is important to him. "Listening to your doctor is paramount," Lorenzo said.
Lorenzo learned that removing his prostate would be a 3- to 5-hour surgery followed by a few days in the hospital. The recovery time would have been a few weeks to a month. Prostate removal was not his only viable option since his condition was caught early. He didn't want the possible side effects of prostate removal, which can include impotence, loss of bladder control, and bowel problems. Also, he was not comfortable having an invasive surgery during the pandemic.
Planning for follow-up checks
Lorenzo's brachytherapy procedure took 45 minutes, and he was able to go home immediately. His recovery was set for 4 weeks, but he was back at work in a week and a half. His PSA level dropped to 0.4 after his procedure. Although it was well within the safe range, it didn't meet the goal of 0.2 set by his urologist and oncologist. So his medical team recommended that he get PSA tests every 6 months instead of every year.
When asked if he was worried about prostate cancer now, since his PSA level didn't drop as far as he wanted, Lorenzo responded, "I am not worried at all. Even though my PSA scores did not hit the desired benchmark or goal of 0.2, the drastic drop indicated the surgery and radiation were highly successful, if not perfect. I compare it to the doctor telling me to lose 25 pounds and I only lose 22—not perfect, but not failure either."
What's Lorenzo biggest advice for men who may be faced with similar circumstances? "Listen to your doctors, concerned relatives, and associates. Keep a positive attitude and continue to enjoy life to the fullest."
September Is Prostate Cancer Awareness Month!
If found early, many prostate cancers grow slowly and don't cause any health problems. If you're 55 to 69 years old, talk to your doctor about the benefits and harms of screening. You and your doctor should also consider your race and ethnicity, family history of prostate cancer, and other medical conditions. Men who are 70 years old and older should not be screened for prostate cancer regularly.
Resources
Blog post: Men, It's Time for Real Talk about Prostate Health
Have a Virtual Conversation about Prostate Cancer
General Prostate Cancer Information
Who Is at Risk for Prostate Cancer?
Should I Get Screened for Prostate Cancer?
Information on Prostate Cancer Treatment
Posted on

by
---
Page last reviewed:
Friday, September 10, 2021
Page last updated:
Friday, September 10, 2021