Breastfeeding for Cancer Prevention
Posted on

by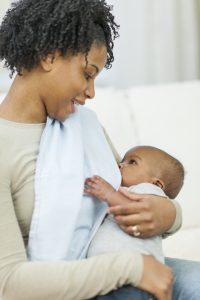 Erica H. Anstey, PhD, MA, CLC
CDC's Division of Nutrition, Physical Activity, and Obesity
Ginny Kincaid, MPH
CDC's Division of Cancer Prevention and Control
Did you know that breastfeeding can lower a mother's risk for some cancers?
We are going to talk about the connection between breastfeeding and cancer prevention in honor of World Breastfeeding Week, an annual celebration the first week of August that recognizes global action to support women in their efforts to breastfeed. This week celebrates breastfeeding as an investment in health.
Most people know there are many benefits to breastfeeding. We've probably all heard that it's the best source of nutrition for most babies and provides many health benefits for infants. The health benefits for women who breastfeed, however, are less commonly known. In addition to lowering a mother's risk for type 2 diabetes and high blood pressure, breastfeeding can also lower a mother's risk of breast and ovarian cancers. A recent study found that only about 1 in 4 people think that a woman is less likely to develop breast cancer later in life if she breastfeeds. It's important to know that breastfeeding helps not only the baby's health but also the mother's health too!
What is the current recommendation for breastfeeding?
The American Academy of Pediatrics (AAP) recommends that infants be exclusively breastfed for about the first 6 months of life with continued breastfeeding after the introduction of solid foods for 1 year or longer.
How many women in the United States breastfeed?
Although most infants receive some breast milk, most are not exclusively breastfed or continue to breastfeed as long as recommended. Four out of 5 infants start out breastfeeding, but only 1 in 4 infants are still exclusively breastfed at 6 months. There are also major disparities, or differences among different groups, for breastfeeding. For example, black infants are 15% less likely to have ever been breastfed than white infants. These disparities are improving some.
What are some of the benefits of breastfeeding for infants and mothers?
Breastfeeding is important for overall health. Infants that are breastfed have a lower risk of asthma, obesity, ear and respiratory infections, sudden infant death syndrome, and gastrointestinal infections such as diarrhea. Breastfeeding also lowers a mother's risk of high blood pressure, type 2 diabetes, and breast and ovarian cancers.
How does breastfeeding lower the risk of breast and ovarian cancers?
One reason may be that when a woman is breastfeeding, she experiences hormonal changes that may delay the return of her menstrual periods. This reduces her lifetime exposure to hormones such as estrogen, which are linked to an increased risk of breast and ovarian cancers.
What is CDC doing to increase breastfeeding rates in the United States?
CDC supports breastfeeding by tracking how long babies are breastfed, promoting best practices in health care settings, and supporting mothers at work and in communities. Learn more about these efforts to increase breastfeeding across the nation.
Video
Posted on

by
---
Page last reviewed:
Tuesday, June 23, 2020
Page last updated:
Tuesday, June 23, 2020