Raising Awareness and Providing Solutions for Cancer in American Indians and Alaska Natives
Posted on

by
By Sherri L. Stewart, PhD; Lead Health Scientist, Centers for Disease Control and Prevention, Division of Cancer Prevention and Control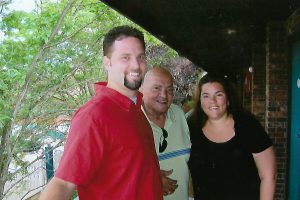 November is American Indian Heritage Month and I am a Pamunkey Indian. I'm very thoughtful about my Native community, my family, and childhood during this month. We all have a lot to learn about the diverse cultures of America's first people. We also have much to do to help American Indians improve their health status by preventing and controlling cancer.
My grandfather and his six siblings were raised on the Pamunkey reservation in King William, Virginia. After his highly decorated service in the Army during World War II, Pop settled in Philadelphia, Pennsylvania, and started his family.
He often brought his children and grandchildren (including me) to the reservation for family events and homecoming parties. We learned the history and culture of our tribe, which includes shad-fishing and pottery making using resources from the Pamunkey River. I enjoyed living among my Indian family at the reservation.
Pop was born the middle child, and outlived his siblings. Almost all his siblings were diagnosed with cancer—some common ones like prostate and uterine cancers and uncommon ones like pancreatic and stomach cancers. My Pop had lung cancer, and more people in the U.S. die from lung cancer than any other type.
Cancer in American Indians and Alaska Natives
Cancer is a leading cause of premature death among American Indians. Overall death rates from all cancers are significantly higher among Native Americans compared with whites in many parts of the country. These estimates may be low because cancer registries often report Native Americans as members of other races.
Native Americans also often have trouble getting high-quality cancer care. Delays in getting treatment such as surgery and radiation therapy are common, often because they need to drive long distances for treatment. Cultural issues, like mistrust of doctors and the medical system and a poor understanding of individual health needs, are part of the problem.
CDC Helps Find Solutions
CDC funds 66 U.S. states, tribes, and territories to reduce cancer through the National Comprehensive Cancer Control Program (NCCCP). Program awardees use culturally appropriate ways to teach Native Americans how to prevent and control cancer. For example:
The Cherokee Nation Comprehensive Cancer Control Program (CCCP) started the Tobacco Tour that tells young people about the dangers of tobacco use. The program teaches students how non-ceremonial tobacco use can lead to cancer and other health problems, but does not condemn the traditional use of tobacco for sacred American Indian ceremonies.

The Fond du Lac Wiidookaage CCCP helped reduce fears that Fond du Lac women had about dying from breast cancer. Now, more women got mammograms.
Support for American Indians and Alaska Natives with Cancer
Support from family, friends, and community members can help direct Native Americans with cancer to medical systems. Our family experienced the power of support first-hand when Pop got lung cancer. When first diagnosed, Pop was anxious and worried because he was not used to being sick. He had little experience with doctors or hospitals and had trouble understanding guidance from his health care providers. He was thinking about his family members who died of cancer. We rallied around him and took him to a leading cancer institution in Philadelphia instead of the closest facility to him, that didn't have cancer care specialists. We coordinated rides to his appointments, and we talked to his doctors about care options.
We are fortunate that Pop's treatment was successful with few complications. He was considered cancer-free and lived happily in good health for several years after his diagnosis. He watched his grandchildren start their own families and welcomed several great grandchildren into the family. These additional years gave him the opportunity to dance with his elder brother on his 90th birthday at a party we all attended on the reservation, a memory that always makes me smile.
Posted on

by
---
Page last reviewed:
Thursday, November 29, 2018
Page last updated:
Thursday, November 29, 2018