"I may not agree with what you say, but I'll defend to the death your right to say it."
             –Attributed to Voltaire
We all know that social media can be an effective way to reach more people with your health or social marketing messages. If you have a blog or social media site such as Facebook, "Likes" and comments help to show that people are actively engaged in your content, even when they disagree with it.  (Also, a special thanks to all of you who have commented on Health Out Loud). 
But we've all seen posts and social media pages that have gone off the tracks, diverted by passionate people with their own agendas and special interests.  There's a real-life analogy to what happens in Web and social media channels:  Speaker's Corner. Every Sunday afternoon, anybody with an opinion – and a desire to express it – congregates in a section of Hyde Park in London, and climbs on a soapbox (sometimes literally) and starts talking. Other people come to the park to engage in discussion with the speakers. Here's a You-Tube Video showing a typical outing at Speaker's Corner.[1]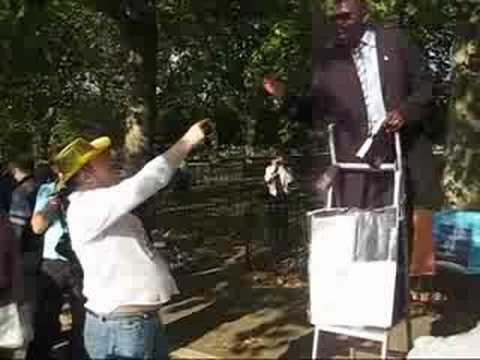 Like it or not, this is often how the Web and social media operate – a cacophony of voices all trying to be heard, arguing their opinions with a lot of passion and sometimes not much proof. If a commenter attempts to hijack your blog or social media posting, he or she is acting like the hecklers in Hyde Park. How should you respond to them?
We at CDC don't have all the answers; after all, engaging through social media is still relatively new and we're continuing to discover the best ways to communicate our messages.  But we've had our share of experiences with people who disagree with us and try to shout us down. As a result, we've learned a few things. Here are some tips that might help you.
1)      Develop a Comment Policy
Let people know the rules of your site – what's acceptable and what isn't. You might think you need an exhaustive policy, but this may not be the case. For example, here is comment policy for Health Out Loud:
This is a moderated blog – we will review all comments before posting them. We expect that participants will treat each other with respect. We will not post comments that contain vulgar language, personal attacks of any kind, or offensive terms that target specific individuals or groups. We will not post comments that are clearly off-topic or that promote services or products. Comments that make unsupported accusations will also not be posted.
It's easier to maintain control of a moderated blog or other social media site. (A moderated site is one where someone reviews and approves comments before they appear on a website.)
In contrast, read CDC's Facebook Comment Policy – it's much more thorough, for good reason. When comments are posted on Facebook, they appear immediately.  There's no way to turn off that feature. A moderator can remove comments later, but by then countless visitors might have seen them. Unless someone monitors Facebook 24/7, inappropriate comments can slip through the cracks.  So in developing the CDC Facebook policy we wanted to be as precise and explicit as possible, making it clear to anyone posting a comment whether they are in compliance or not.
Some policy guidance is obvious – no spam, no "product placement," no spurious links. You can distill CDC comment policy into two basic tenets:  A) stay on-topic and B) play nice.
2)     Be Consistent in How You Manage Comments
This can be more difficult than it sounds. Sometimes commenters disagree with CDC recommendations. They may accuse CDC of misrepresenting the truth or participating in conspiracies and may point to discredited or less scientifically rigorous studies to support their positions.  It is tempting to take down these comments, or to never allow them to be posted in the first place. But as long as the commenters stay on topic and don't descend into vulgar or personal language – either toward CDC or to each other – we usually allow the comments to stay.
Why do we do that? CDC is committed to improving the health of all Americans, which includes communicating with and educating our citizens on how to lead healthier, happier lives. But as a government agency, we are also committed to being open and transparent in all our dealings with the public. US citizens have the right to say what they want. If what they say is wrong or misguided, we hope that our research posts and links, based on peer-reviewed science, will convince them otherwise. We also hope that other people will act as health advocates and challenge false or misleading information. Many social media sites are self-correcting; that is, through discussions on the site, over time reasonable positions and opinions tend to rise to the top.   
3)      Remember Your Real Audience When Engaging
Watch the Speaker's Corner video again, only now look at all the people who are NOT engaging in the discussions. That's right – the vast majority of them. This is also analogous to social media sites where many people observe and never write a comment.  On Facebook, these may be people who "like" posts but don't comment. For those of you familiar with the Ladder of Engagement Theory, these people – spectators and joiners – represent nearly two-thirds of the people on the Web.  They may not speak up, but they are paying attention – just like all those observers at Speaker's Corner. These people, like all of us, will initially be attracted to a good argument. But arguments often get tiresome or overwhelming. (How many of you viewed the entire video? I certainly didn't.)
These observers are who we really want to target our messages to. If you try to answer every accusation, every misrepresentation, from people whose minds cannot be changed, you risk losing that silent majority. They will walk away – just like the filmmaker in the video. So don't get into a long-winded debate with commenters. You can let others discuss or argue their opinions for awhile, but don't let them go on and on rehashing the same argument either.
I've outlined some of lessons we've learned at CDC, but we are still working to build out operational guidelines and best practices.   Now we'd like to hear from you – how have you managed your social media sites? What are the elements of your comments policy? Please comment below – I promise I'll publish them. Just stay on-topic and play nice.
---
[1]
CDC does not endorse or promote any statements or opinions expressed in the video, not that we understand them anyway.