"I may not agree with what you say, but I'll defend to the death your right to say it."
             –Attributed to Voltaire
We all know that social media can be an effective way to reach more people with your health or social marketing messages. If you have a blog or social media site such as Facebook, "Likes" and comments help to show that people are actively engaged in your content, even when they disagree with it.  (Also, a special thanks to all of you who have commented on Health Out Loud). 
But we've all seen posts and social media pages that have gone off the tracks, diverted by passionate people with their own agendas and special interests.  There's a real-life analogy to what happens in Web and social media channels:  Speaker's Corner. Every Sunday afternoon, anybody with an opinion – and a desire to express it – congregates in a section of Hyde Park in London, and climbs on a soapbox (sometimes literally) and starts talking. Other people come to the park to engage in discussion with the speakers. Here's a You-Tube Video showing a typical outing at Speaker's Corner.[1]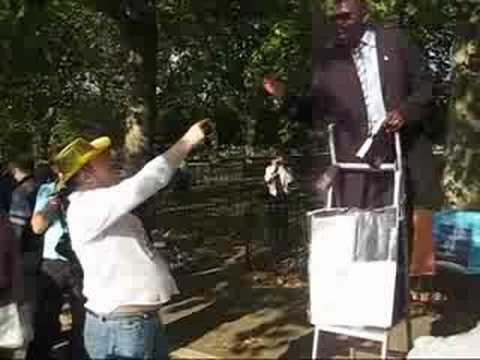 Like it or not, this is often how the Web and social media operate – a cacophony of voices all trying to be heard, arguing their opinions with a lot of passion and sometimes not much proof. If a commenter attempts to hijack your blog or social media posting, he or she is acting like the hecklers in Hyde Park. How should you respond to them?